Ash: 1320 Janka - handsome
Ash has a rich, warm palette that ranges from shades of blonde to chocolate browns, and of course, smoky ash gray. Its warmth is comforting, and has a depth like no other. You'll see small knots, and may occasionally find insect marks and signs of previous use that adds to its beauty and history. The flat-sawn "V" grain pattern is balanced by an abundance of tight vertical grain. The wood is hard and durable; a great choice for active areas (meaning: it's Kid & Pet friendly!). Lastly, its coloration makes Ash a worthy substitute for Chestnut.
Mouseover the thumbnail image below
to see the enlargement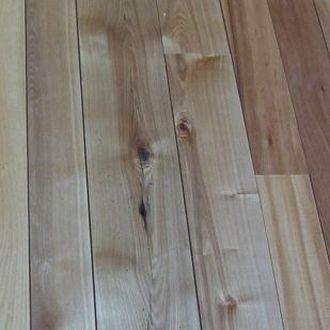 Width distribution is subject to availability at time of order.